On Friday night, around 12 A.M, Arnab Goswami, Chief Editor of Republic T.V, was attacked by a couple of goons. At that night Arnab and his spouse, were coming back from his office, HQ of Republic Media Network. He was with his protection unit of Mumbai Police and office security personal. When they make to Ganpatrao Kadam Marg, Worli, their car was overtaken by a bike with 2 people sitting. One was riding and other one was on back seat. They attacked on the right side window of car. Then they poured liquid all over the car. About 50 meter ahead they were arrested by the Mumbai Police Protection Group. Then he got to his house.
He then got the message of Mr. Mahindra Kale, Office Security Personal, that the criminals were arrested by Protection Unit of Mumbai Police. Then, Mr. Shivaji Hosmani who was assigned to his personal security arrived and informed him that the attackers were identified as Members of Youth Congress. After some time Deputy Commissioner of Police Mr. Abhinash Kumar came to Arnab's parking lot. He offered to file an F.I.R. against them at N.M Joshi Marg Police Station. D.C. P told him that there is no need to file complaint so immediately he would ensure that F.I.R. has been filed and call him for check of facts. But, he didn't call him after one and half hour later. He called his colleague who was at Police Station. He said it was a matter of investigation whether the arrested people were of Youth Congress or not. When he reached the police station at 3:30 A.M the D.C. P lied to him that the attack by people of Youth congress was not known to him. When he requested several time to report F.I.R., they finally registered F.I.R. Then his colleague told him that the attackers were identified. They were Pratik Mishra and Arun Dilip Borade.
Now as we know all the facts of the attack on Journalist Arnab Goswami, we have to know two more facts that related were related to this attack.
These 2 facts are :-
Congress Leader Mrs. Alka Lamba had tweeted युवा कांग्रेस जिन्दाबाद on 3:00 A.M on 23/4/2020, the night when Arnab was attacked.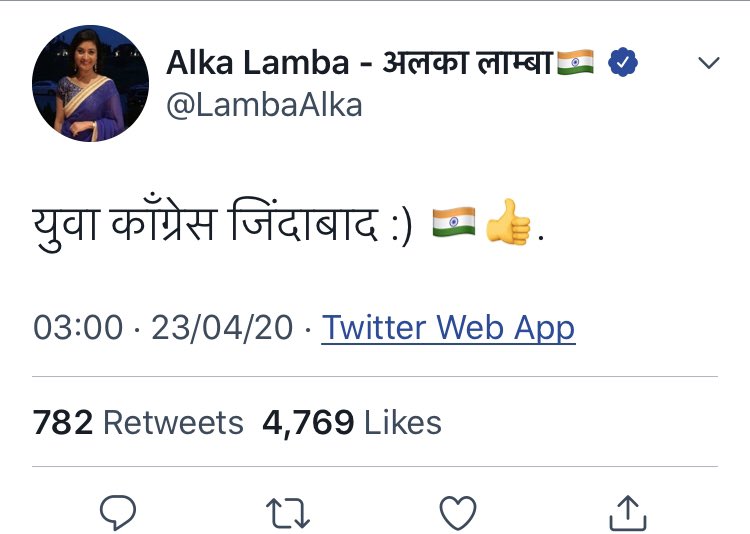 Arnab had a debate on Sonia Gandhi the topic was 'Why was Congress silent on Palghar Mob lynching?' https://www.youtube.com/watch?v=9nTDyATB86c
These facts and the story suggest that there are 2 person and 1 organisation had been planning for attack on Arnab.
These 2 can be :-
Antonia Maino
Alka Lamba
The organisation can be Indian National Congress.
I suggest these names because they all are in I.N.C and this organization is always against people who want to India be a nationalist country.
Jai Hind.
Contact- jyotiradityachaudharykv@gmail.com